Hello Friends,
A warm welcome to Fixingblog.com
Dear Folks Today we will share Some Common Problems and their solutions with Asus wireless router Problems. We intend to Guide You step By step to Fix any kind of problem With the Asus router and perform Asus router troubleshooting.
Guys internet has become an essential part of living our daily life. it is an age where we no longer depend on cable to get the internet on our devices.
In simple language, the wireless router is a device that gives you wired and wireless internet all over your home.
Asus Routers Are Quite Famous and reliable. let's Understand a few common issues with a router and their steps to fix Asus wireless router.
What are Common Asus Router Problems?
Asus router setup problem
The wireless router is no longer secure
Asus Router is blinking orange
Everything is connected but no internet
Forgot Wifi Password or Change Router admin
You want to reset the password in your Asus router etc.
problems connecting other devices with asus router.
We have already written a few posts about Asus routers you might want to checkout –
In case if your Asus router is not working anymore check out this post below where you can read more about how to fix asus router not connecting to internet
Basic Asus Router Troubleshooting
Folks We have worked with home wireless routers Since it was introduced to mankind. and as we share this information with you we would like to tell You some killer tips that will Get your Asus router working in no time
First, restart the Asus router let it cool down for 4-5 min.
In the meantime Restart the Modem Also. check if this did fix your issue if not then continue
Now its time to reset the wireless to fix Asus wireless router Problems.
How to Reset Asus Wireless Router
Performing a reset on the router is very Easy But Tricky So please just Give your full attention to the next 5 min
At first, Plug the Router to the power source and unplug the Asus router from the modem
Now look at the back or bottom of your Asus router you can see a reset hole Or key
Just Press the reset key using a pen or something that fits in there and hold it for 40-45 sec.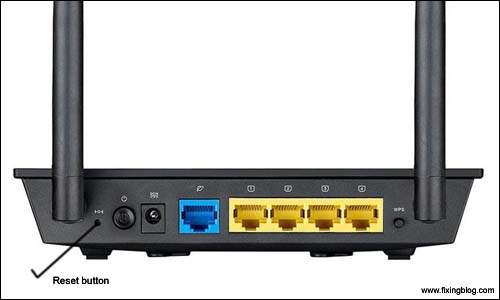 Now while your Asus router is doing reset all lights on Asus router will start flashing that means it's being reset
After 40-45 seconds release the reset key and restart the router.
Now your Asus wireless router has been Reset and it's fully Ready to be set up with your modem as like a new router.
For router setup and Guide Follow this Guide On How to setup asus wireless router.
Friends there can be one more way to reset the Asus wireless router but we really don't recommend anyone to that because while you are having a problem with Asus wireless router most of the time you never get there.
But again we would like to share all with you so here we Go
How to login to Asus wireless Router
In order to factory Reset the Asus wireless router we will have to log in to the Asus router setup page.

Open the browser and type 192.168.1.1 and type the username and password most of the time password combination is like this
| | |
| --- | --- |
| Username | password |
| admin | admin |
| admin | password |
| admin | 1234 |
| blank | admin |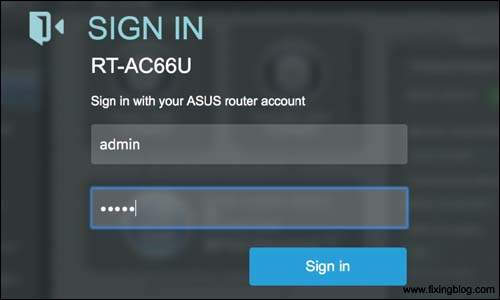 just use any of these and login to your Asus router and under the settings, you can see the option to reset the router to factory default settings.
Just click on it and wait for 2 min it will erase all settings in your Asus wireless router and it will reboot the router automatically.
once you are able to login asus router console you will be able to change, configure or Modify any setting within the router.
we will recommend rebooting the router manually one more time before you set up the Asus wireless router. we hope this will help you to solve most of the common Asus wireless router Problems
Please Comment Below for any other help and support with Asus router troubleshooting. We thank you for reading at fixingblog.com