(Last Updated On: May 7, 2020)
Hello Friends,
Welcome to fixingblog.com
if your Netgear wifi router is blinking orange or yellow then it could be because of many reasons and it's possible that Netgear router has quit working on you so today in this post we help you understand and fix the problem related to Netgear router.
Why Netgear router is blinking orange? –
As you know every machine can have problems and Netgear router blinking orange means the internet is not coming to the router.
First, call your Internet Services Provider (ISP) to check your Internet connection, make sure the internet light is solid on the modem or you can try to connect the computer with a modem directly to see if the internet works.
The orange blinking light tells you, you have not got an internet connection. Check the settings on the router also.
Most of the time a simple restart can fix this problem.
Please reboot your modem and Netgear router.
Check your router firmware –
after checking the internet connection first thing you should try is to Login to your Netgear router and update the Netgear router. Once logged in go to settings and under setting look for firmware update. Once the update is done please restart the router.
if none of this works then try to reset your router using the reset key.
Plug the power outlet to the Netgear router and press the reset key using any tiny object inside the Hole and hold for 20-30 seconds.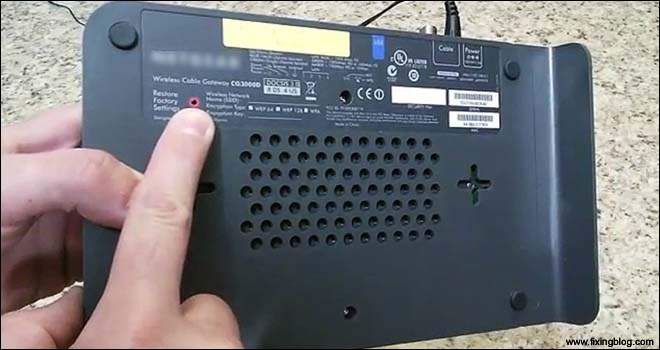 Now Restart the Netgear router and modem.
for auto, setup downloads Netgear genie and follow the steps.
Sometimes it happens that netgear router is connected but internet is not working then its best to check the internet connection or reset it again. after reset/restore Please reconfigure the Netgear router.
Manual Netgear setup follow –
Open a web browser and type in the address bar 192.168.1.1
Enter your username admin (default) and password =password and hit enter.
And Now click on no I want to configure the router myself click next
Open a page like the name of basic settings
Click Yes on internet connection require a login.
In encapsulation select PPPoE(PPP over Ethernet)
Then enter your login username which is provided you by your ISP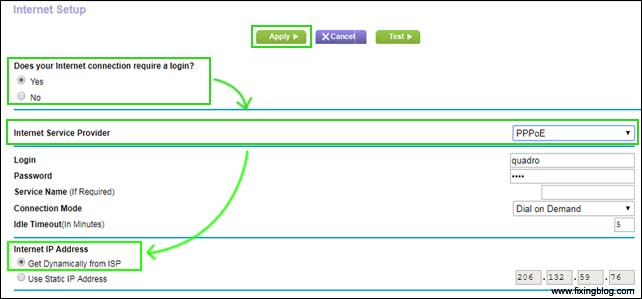 In the internet, IP address click get automatically from ISP
Domain Name Server DNS address click get automatically from ISP
Enable net and click apply
Now click on wireless
Under wireless
Name your SSID (network name )
Select region
Select channel 11 and leave it as it
Mode select auto 300 Mbps
Under wireless access point checkmark on allowing broadcast of name SSID and enable wireless access point.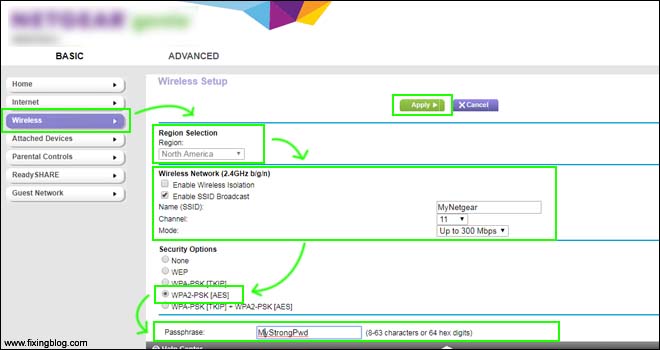 Now click on security type and put your password.
Remember your username and password to login your WiFi network,
and click on apply
Now reboot your router and modem see if that works. You can try more useful tips on how to setup netgear router article and get it to work.
I hope this will help you out to fix the Netgear router blinking orange issue. 
do comment and let us know if you need further help.
thanks for reading