Hello Friends,
Belkin Range Extenders Are one of the best Home Wifi extenders Around the Globe. In this post, we will describe what is Belkin. range and how it's used to access, setup and Troubleshoot Belkin range extender
Let's Get Started and find out –
What is Belkin.range?
folks Many People have asked this Question While Installing Belkin Extender Let Us Explain That
Belkin.range is a Local Web portal That Helps you to Connect And Setup Range Extender Administration.
You Can Install And Configure Your Belkin Range Extender With the Help Of Belkin.range.
When You Are Connected With Belkin.setup Which Is a default Network Name for Belkin extender Please Type Belkin.range in the URL of your browser to change the settings of your Extender.
Belkin extender is A Plug And Play Device and https://Belkin.range makes it Easy And Simple
Without Confusing you let me Explain how to Setup Belkin extender –
Tip: – Keep In Mind That You Can setup the extender With Any Of your Device With Full Browser And Wireless Capability but a range extender does not work like a router so you need a Router. if you have a modem that has wifi capability then the extender can be configured.
Setup And Configure Belkin Range Extender
1. Just Unbox Your Extender And Plug it into the Power outlet and turn it on.
2. Now Go to Your Computer Or Phone And Refresh The Network List, You Can See an Unsecured Network By The Name Of Belkin.setup. it should be unsecured so Please Connect with it if you wish to configure the device.
3– Once Connected it should Automatically Take you to the configuration Portal.  If Not then open Any Browser Like chrome, safari, Firefox, Or Internet Explorer And Type "http://belkin.range" to Login Belkin Range Extender
4– Now it Will Search For the network name Around the extender Please select your Main Router Network and hit Next
5– Type the password of your main router and Tap Next. You Can Also Create New SSID (network name) and Password for Your Belkin extender if you wish.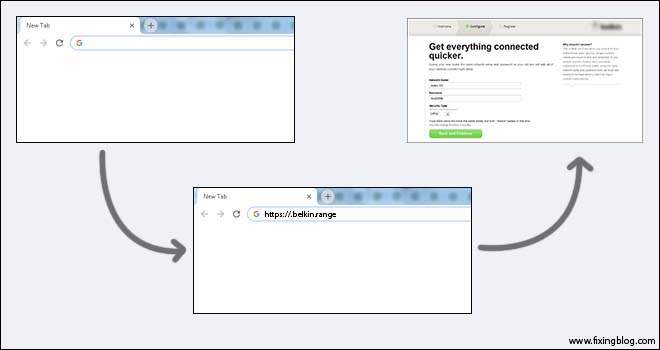 6– if your Extender is a DUAL Band extender you Can Have Both Like 2.4 GHz and 5GHz Networks.
7 – After Setup Please Restart You Router AND extender To Apply The Settings.
Now You Should Have Your Extender, Working. You Can Place your extender to the extension of your Existing main network Or Anywhere Middle of the house.
According to Belkin, it can increase your network up to an additional 5,000 square feet.
You Can Also Configure the Range extender with the help of WPS kEY.
if anything goes wrong you can Troubleshoot Belkin Range extender by doing a reset and power cycle. Hopefully, this will help you understand How Belkin extender works and how to configure it.
Tips For Belkin Range Extender
You can use wifi Or Cable connection from the extender to set up it. 
Place the range extender Away from the Router where you have low signal Quality but make sure it's placed within the router range.
Restart the range extender with your wifi router every once in a while so it can cool off and don't overheat especially in summer days.
Please Comment Below For Any Other Help With Belkin Extender.