Hi there
If you are having trouble with the Epson printer then this post is a complete Guide on how to fix Epson printers that won't print using quick, effective, tested methods.
to understand the root cause of the issue we would need to dive more into issues that are correlated with printers.
Please read the post till the end and do let us know if you require any further help with your comments. First, let's understand – 
Why Epson Printer Won't Print?
Multiple issues can cause the Epson printer to quit printing and we need to perform a quick troubleshooting checklist to find out where the trouble is. Here is the list of Possible issues-
Poor or faulty Cable Connection 

Epson printer has gone offline or in hibernation mode known as sleep mode

Incomplete or misconfigured  Epson printer setup with system

The printer is not added to the Computer or Phone (the device that you use to Print)

Faulty or incompatible printer driver for respected model of the printer

Blocked or non configured Printer ports 

Clogged ink cartridges or dusty printhead

Other Epson Printer errors 

Missing, corrupted, or Outdated Epson printer driver

Paper jam in Epson printer

The printer is not set up as the default printer

The computer (Print device) is not connected to the same wifi 

Virus or Firewall related issues 

Stuck print jobs in the queue 
One of many of these issues that can cause Epson printers not working trouble and here is how you should fix it using quick methods. Let's start with hardware checkups and then move to the possible software issues.
Check the Cable Connection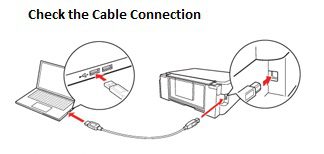 Make sure the printer and connection device(Router) is turned on. If you are using the USB cable to connect the printer to the computer please make sure it's plugged and the connection is stable with the cable.
Get the printer back online
Restart the Printer and Press the Menu key twice to get the printer out of sleep mode. Check the power light on the printer to make sure the power supply is stable. If you are using a wifi network to print with an Epson printer then please check to confirm that the Epson printer and computer are on the same network (in the case of a network Printer)
Paper Jam in Epson printer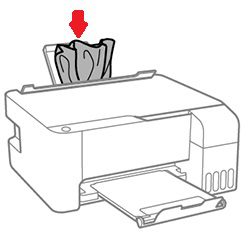 In order to resolve paper jam in an Epson printer, you would have to perform cleaning of paper roller feeds, treys, and other components to make sure there is no foreign debris stuck in the paper's path.
There are some false alarm errors for paper jams too to handle this issue better please refer to the Epson printer paper jam troubleshooting guide to find detailed information. You can use lukewarm water to remove clogged ink cartridges as explained in our guide.
Uninstall/reinstall the Epson Printer driver
This is probably the best way to talk about his issues after you have spent more than 30 minutes troubleshooting an Epson printer.
If you have an outdated Epson printer driver and connecting technologies are being updated from time to time then it could be the reason behind Epson printers not printing.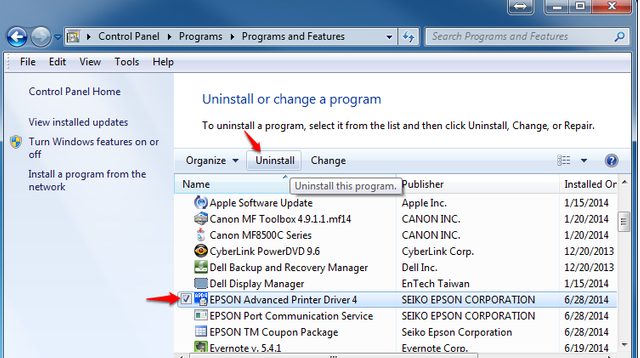 The router and computer (windows and mac ) regularly update the firmware and operating system and they may cause conflict when you have an outdated Epson printer driver which is not able to sync with other devices. This would also fix corrupted printer driver trouble.
To eradicate multiple issues at the same time please go to your computer and find the installed programs list and uninstall the printer driver. Restart the computer and start installing it again.
Go to the official website to download the printer software based on your computer model number and architecture. Run the application and follow the onscreen instruction to setup the Epson printer.
Set the default Printer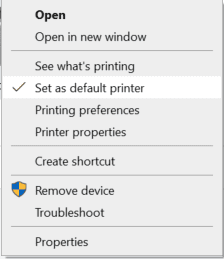 If your printer has been connected to other printers in the past then windows would auto-select the last used printer as default.
In some cases, it may cause the Epson printer to be offline so please check this guide and get the printer back online. printer errors know more about how to solve epson error code 0x97
Clear Pending Print Jobs
Sometimes because of a power outage or sudden shutdown, the printer may have not been able to print pages as it was given command so it may run into an error state and cause the Epson printer to stop printing further pages even when power is back and the printer is online. 
It's a technical glitch that can be easily removed once you have cleared the pending print jobs from Queue.
Make sure Printer Ports are open
If you have a printer that is shared on the network and you use it to connect it with a router and print from any device connected to the same network then there is a small chance that your printer ports might have been blocked please contact support to make sure the connection is stable and printer ports are open to print.
Check the Antivirus Firewall
Many users have reported issues with antivirus and firewall settings because they are being changed and managed by other antivirus providers. This could cause issues with printers so to make sure the antivirus program is not blocking the internet connection.
We hope all of these methods will help you get printer printing again. Let us know if you need any other help.