Hello Friends,
Welcome To Fixingblog.com
Dear Friends If Your Toshiba Laptop is Having Trouble Connecting With Wireless Network We Can Help You Fix This Issue.
Let's Just Start With Few Basic Steps –
Restart Your Wireless Router And Internet Device (Modem)
Check Your Firewall Or Antivirus Setting For Internet Connection.
See If That Works,
Don't Be Disappointed If Baby Steps Did Not Work We Got Few More Steps That Might Help You To Get Your Internet Connection Back.
Why Toshiba Laptop Won't Connect To WiFi –
Dear Friends Let's Just Try Few Thing First –
Restart Your Toshiba Laptop Along With Router.
Please Update Your Wireless Adapter Driver. Install The Latest Version of Wireless Driver.
Update Your Operating System (windows ).
Read More: FIX Windows laptop won't connect to wireless to the router?
Please Check Your Toshiba Computer For Virus Or Any Kind Of Malware using Your Antivirus Protection.
If You Think This Is Not Working At All We Will Recommend You Please Restore Your Computer to Back Date How to Restore windows computer to factory settings
In Case If Your Toshiba Laptop Connect to the Internet But Connection Is Very frequent (The Internet Comes In For A while Than Kick Out ) Try These Steps
Fix Toshiba Laptop Frequent Internet –
Uninstall And Remove Old Wireless Driver.
Install The Latest Version Of driver WiFi Driver From Toshiba Website visit DRIVERS & SOFTWARE.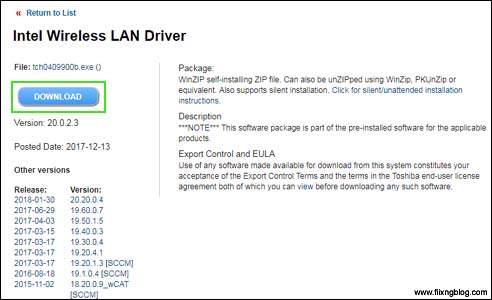 After Driver Install Restart Your PC.
Update Your Wireless Router To The Latest Version Of Firmware.
For Any Other Guide Read Why windows laptop frequently disconnecting from wireless?
See If All This Information And Guide Help You to Get Your Toshiba Laptop Hookup With Wireless Network.
Still, If Your Toshiba Laptop Won't Connect Please Comment Below And Let Us Know.
Share This Post If You Liked The Steps And Guide.
We Thank You For Reading At Fixingblog.com