Hello Everyone,
Welcome to fixingblog.com 🙂
Linksys is one of the renowned brands in the Networking devices manufacturing industry. Linksys is an American company, and they usually produce products for home, use to small business users, they are not largely into working with high-end equipment and do quite well job for what they are good for. Now They Are Owned And operated by Belkin Inc.
Linksys Range Extender Reviews have always been Great and Customer satisfaction is Good compared to any other brand of the extender.
Actually when we are having a large home, where it is difficult for a single router to spread its network, and in those situations, we get to see the use of Range Extenders. like Most extenders, Linksys Also have Two main ways to Be Reset And Restored to the default factory settings.
Reset Linksys Range Extender
Note – Know that once reset all current settings of Linksys range extender will be wiped out and you won't be able to recover them. The reset Process is easy and setup after reset is Simple However you just need to follow the given steps and ask for help when needed. Check out All these steps to fix and reset your Linksys range extender
Soft Reset
This method will only work when you are able to login to the Linksys extender console by connecting it directly to your computer. before you jump to easy hard reset it is advised that you try soft Reset first.
Plug the Linksys extender to power Outlet and make sure your computer is connected with it using wire or wireless method.
Switch your PC on Open up a web browser and access the web-based setup page of the Linksys Range Extender
In order to access the web-based setup page to reset the Linksys Range Extender, you will have to first connect the router to the PC via a cable connection.
Open up the default IP 192.168.1.1 or extender.linksys.com
Enter Username as "admin" and Password field also as "admin" and login.
Move to the Administration field to proceed to reset the Linksys Range Extender.
Click on Factory Default Reset button to reset the Linksys Range Extender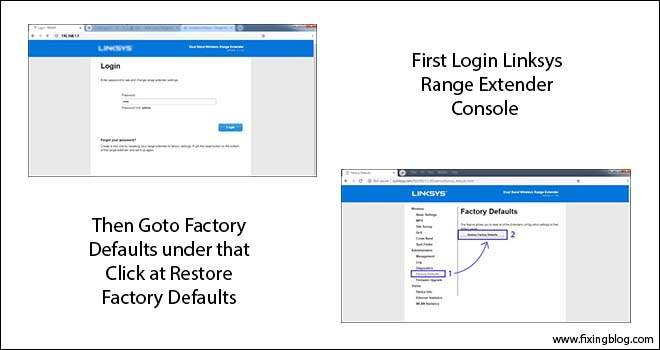 Your extender should take 2 minutes to erase all the settings and revert it all back to factory defaults.
Restart the Extender and Get ready to set up it just like a new range extender. similar methods are used when Linksys router is not working and in need of troubleshooting.
Hard Reset
This is the most used and Most Effective method of Linksys extender reset however this may also come with the risk of hardware failure when done Wrong. Please follow the steps carefully and don't overdo that reset again and again.
Step 1) Shut down the PC
Step 2) Disconnect all the connections from the Linksys Range Extender
Step 3) Now connect the power cable and let the Linksys Range Extender boot up.
Step 4) After the Linksys Range Extender boots up, just insert a paper clip in the Reset hole for around 20 seconds to 40 seconds.
Step 5) Once the Linksys Range Extender boots up after a restart you will have successfully reset Linksys Range Extender.