Hi, there if your printer is offline then this is a complete Guide on step-by-step printer offline fix methods and understanding all the reasons behind the trouble.
A Simple Home Who Would have Printer Will Not Be Used Everyday. This Type of House Would have Only One Wifi Router With 5-6 Users Connected to a Router Who Would have access to a Printer, So there is a Chance of inactivity & Loose Cable Connection.
for a Small Business the Printer is Being Used every day so Less chance of Inactivity & More Chances for Other Causes of the Printer offline such as Firewall, Spooler services, Or Other Networks.
Having Said That we Acknowledge that there Could Number of Other reasons that Can Make Your Printer Go Offline So Let's Begin To Understand that Problem So we Can Solve it-
Why My Printer Is Offline?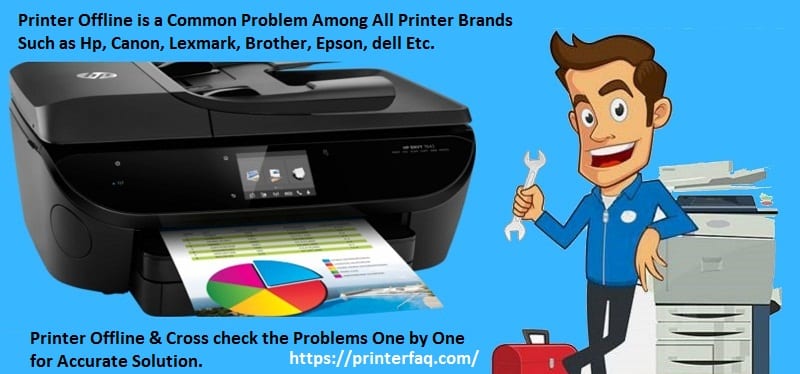 Printer Offline is a Common Problem Among All Printer Brands Such as Hp, Canon, Lexmark, Brother, Epson, dell Etc. Let us List Out All Possible reasons that could take Your Printer Offline & Cross check the Problems One by One for an Accurate Solution.
Inactivity Or Overloaded Print Jobs
The printer is Not Connected To Router Network Or Computer.
Loose Cable Connection Or Faulty USB Cable (If it is a USB Printer)
Printer May Not be selected As default Printer
Use Printer Offline is Enabled
The printer Setup Was incorrect Or Incomplete.
Faulty Or Corrupted Driver.
Ip Conflict Or Outdated Router Firmware (Assign Static Ip Address)
A firewall is a Blocking Printer to Stay Connected.
Print Spooler Services are not working
Printer & Computer (Printing Devices) are on different Network
Easy Printer Offline Fix
Now We Hope you have Understood that There is no Specific Reason for the Printer being offline that's why it's Only Obvious to Understand We have to Look for Each Issue & Make sure all parameters are Set in the Correct Order So we Can Get Our Printer back From Offline to Online.
do checkout More steps on how to get hp printer back online and solve issues with the hp printer.
to Fix Offline Printer First You Need to Make sure Your Printer is Plugged into the Power Outlet & Cables are Connected to in the Correct Order. If You have Wireless Router Make sure it's On & Working. Now Go Ahead & Follow the Given Steps Below-
Inactivity Or Overloaded Print Jobs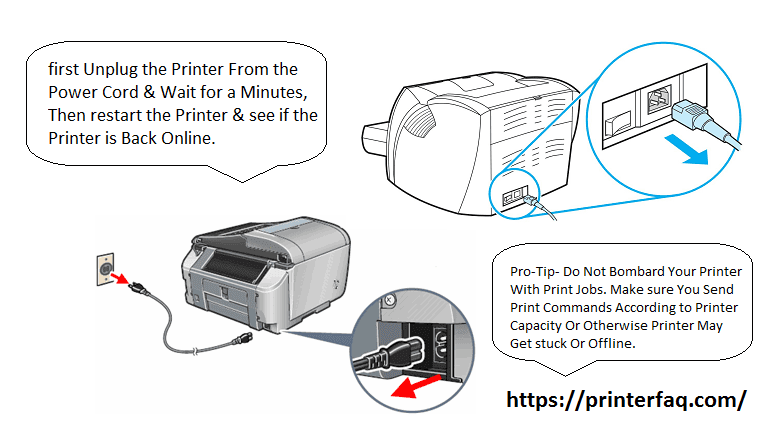 If You Have Not Used Your Printer For Many days, there is a possibility it has Gone into Offline Mode so to Fix that first Unplug the Printer From the Power Cord & Wait for a few minutes, Then restart the Printer & see if the Printer is Back Online.
It is Also Possible That Some Print Commands are still in Queue. Go to the Printer & Right click on it & Go for Option See What's Printing Please Cancel all remaining Print Jobs & Restart the Printer.
Pro-Tip- Do Not Bombard Your Printer With Print Jobs. Make sure You Send Print Commands According to Printer Capacity Or Otherwise Printer May Get stuck Or Offline.
This Method is the Most Popular Way for printer offline fix, however, if the problem is Different then you might still have your Printer Offline, in that case, let's Try Another Approach to Resolve the Issue.
The printer is Not Connected With Wireless Router
Another Cause of Printer Offline is Disconnection Or Settings Change On Router Or Printer End. Please Make Sure Your Printing Device (Computer Or Phone) is Connected To the Same Wifi Network as Your Printer.
if they are Connected To the Same Network Then it is Quite Possible that One of them is not Configured Correctly. Login to Your Router Dashboard & check if the Printer is Connected Or Not.
Note – It is Been observed by Some of Our Users that If You have a Dual Band Wireless Router then Printer May not stay Connected to the 5.0 GHz Network & Printer may Drop the Connection frequently Making if Offline. So to Fix the Frequent Offline Problem Try the 2.4 GHz Band Connection. Adjusting the channel settings has Helped In Some Cases Too.
Loose Or Broken Cable Connections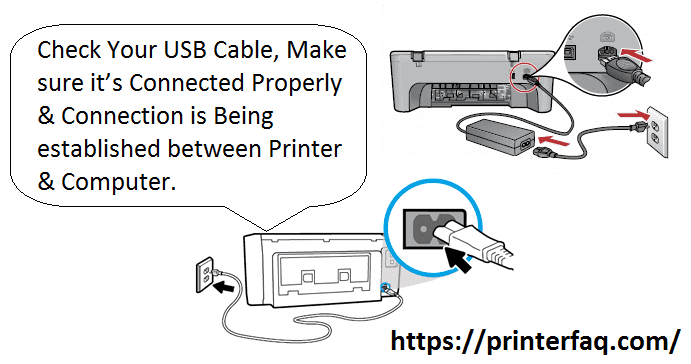 instead of Wifi Network if you are using USB Cables to Print then it Would be Best for You to Check Your USB Cable, Make sure it's Connected Properly & Connection is established between Printer & Computer.
In Case of a faulty USB Wire Please Go to the Local Best Buy Or Walmart Store to Buy a Compatible USB Cable according to Your Printer Or Contact Brand Vendor For replacement in case Your Printer is Under warranty.
Set Printer as Default Printer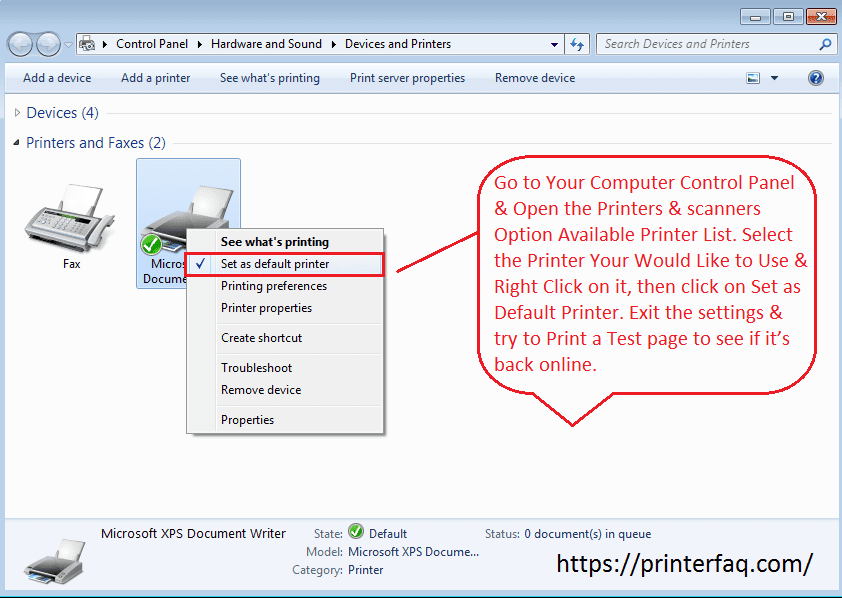 When You Have Not configured a Printer As the default Printer Your System may have a List of Many Printer Under it & Upon Trying to Print the system does not know which Printer to use & Which one is the Primary Printer.
Go to Your Computer Control Panel & Open the Printers & scanners Option Available Printer List. Select the Printer You Would Like to Use & Right Click on it, then click on Set as Default Printer. Exit the settings & try to Print a Test page to see if it's back online.
Use Printer Offline Mode
Go to the Computer Contol panel the Open the Devices & Printers, Under the Setting Select the Concerned Printer & Now Click On See Whats Printer Or Open Printer Queue.
Now Click On Printer & Uncheck the Use Printer Offline option. Save & Exit the Settings & Try back to Print using Your Printer.
you can also try to disable your antivirus and try to refresh the system.
Outdated, Corrupted Or Faulty Driver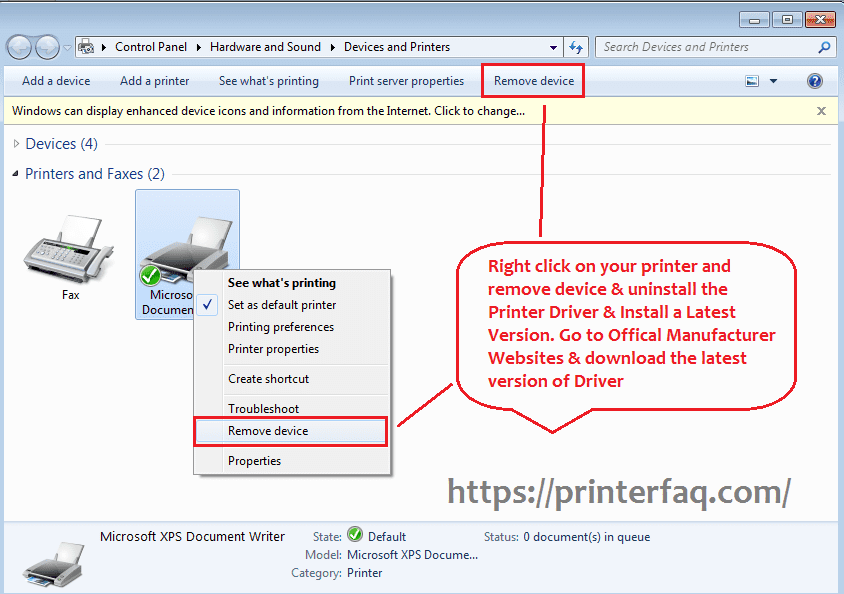 it is essential that you update the Printer driver whenever there is a New Version of it. Updates are there to Enhance Performance & Fix Bugs in the Printer Driver.
in Other cases Because of many Software Updates, Windows updates Or Antivirus Updates, or Any Other Technical Glitch if the Printer Driver is Corrupted then it's Only Best You uninstall the Printer Driver & Install the Latest Version.
Go to Offical Manufacturer's Website & download the latest version of the Driver Or Contact the Support Team & Let me Rectify the Problem for You. to Uninstall the Printer driver From Windows 10 Please Follow the Steps Given Below.
Incorrect Printer Setup & Installation
in the case of a Brand New Printer, it's possible that While Setting Up Printer You Might have Misconfigured It & That Mistake Alone is sufficient Enough to Force The Printer to be stuck in offline mode.
to rectify the Problem Please Uninstall the Printer & Re- Configure it Again With Fresh Settings. You Can Go to the Manufacturer's Website for Setup Instructions.
in the case of the Canon Printer-  How to connect canon printer to wifi Or Go to Canon.com/ijsetup to Know the Process of Downloading & Printer setup.
Ip Conflict Or Outdated Router Firmware
it's Known that Outdated Router Firmware Or Ip Conflict May also cause your Printer to Go Offline So it's Best that You Login to Your Router and check for Any Ip Conflicts. Printer Users Who Complain that Their Printer is Going Offline Frequently & After troubleshooting Get back Online may have the Same Ip Conflict Or Outdated Firmware Problem.
to Fix the Problem Login to the Router Settings & Go to the Firmware Option. Also, Open the Command Prompt & Open it as an Administrator, Type Ipconfig/all, and press Enter. Now type ipconfig/flushdns & press Enter.
Check for Firmware Updates & if there is any latest version available for the router Please back up the router settings Before Doing the Update. Almost all Routers have backup Features inside their dashboard. Once backed Up Please install the latest firmware & Restart the Router Along With Printer.
if the problem is still there Please assign a static Ip to Your Printer & see if that helps with the printer offline fix.
Firewall Blockage Problem
it has been observed that sometimes Antivirus Or firewalls May Block Printer Ports Or Any Other Printer Settings that Keep the Printer alive & Connected With Computer.
Update Your Antivirus if it is Outdated Or Temporarily Stop it to make sure it's not your Antivirus That is Causing Your Printer Offline.
Any Expired Or Corrupt Antivirus Software Can Also Go Rouge to Cause the Problem. in case if you find that antivirus is the culprit Please Contact Your Antivirus Support & Let them have a look at the matter.
Stop/Start Print Spooler Services
Print Spooler Services are responsible for managing Print Jobs & commands & if the Print Spooler Services is not working accurately Your Printer Will go offline.
Now to Fix the Problem You Must restart the Print Print Spooler services. there is 2 Way of restarting print spooler services in windows Computer.
Restart Print Spooler Using Command Prompts
Go to Your Computer & Click On the Start menu & Type CMD
Right Click on it & Run it as Administrator
Type Net Stop Spooler & Press Enter & this Will Stop Print Spooler Server Now Let's restart it.
Now Type Net Start Spooler & wait for Services to be restarted
Type EXIT & Close the Command Prompts, Go to Your Printer the Printer status & see if it is Back to online.
Manually Restart Print Spooler Services
Go to Your Computer & Press the Windows Key + R & Open the Run Box.
Type Services.msc & Press Enter.
Locate the Print Spooler services & Stop the Services.
Once Stopped Please Restart the Print Spooler Services.
Exit the Page & try to check if the Printer is back online
We hope all of these Tips Will Help You Fix the Printer's Offline Problems, however, if you Still See Your Printer is Offline then it's Best You Contact Our Support Team & Get it Fixed By Our Expert & Experience Team.
You Can Leave a Comment & We Promise to Get back as soon as Possible With a Solution to the Question. thanks For reading at Printerfaq.com.
Good luck