Hello Folks,
Welcome to fixingblog.com
OK friends whatever the reason you have for resetting the phone please take the full backup of your data. because once it's reset it's Gone.
Because when you perform a factory reset on the android phone Your all data and settings will be erased forever. So again it's better to have a backup of your data.
So if Your phone is in working condition just try connecting it to the computer using a USB cable and then copy and paste your full data or you can also use any online backup or storage service to back up your data.
Do You Know Many Phone Problems can be fixed by booting your phone in safe mode – How to Boot android phone in safe mode? see if that helps if not
Then Let's Go back to Reset your android phone. if your phone is in working condition just follow the steps:-
How to Factory reset the Phone Using settings
Click the menu or the home key
Go to the Settings
Now go to Back up And Reset
Tap on Factory data reset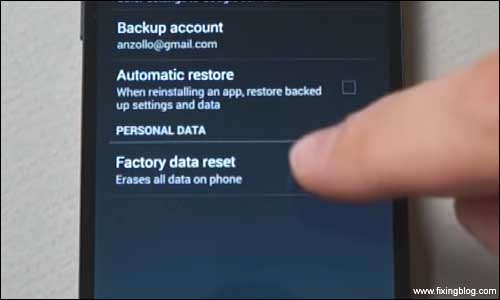 there Will be a pop-up saying are you sure you want to reset it
just click on Reset the Phone and Erase everything.
If for any reason You can't access Your settings just follow the steps below –
Try Hard Reset on Android Phone
its very simple just go step by step in order to hard reset your phone to factory settings try this-
Just press the power key and volume up at the same time and hold them together simultaneously.
Keep Holding both Keys together until you see  the recovery options mode
Use the Volume key to navigate through recovery options and perform a reset on your phone.
Now, wait and make sure it is plugged with the power source so your battery doesn't die in the middle of the process.
Please Comment Below And Let Us Know If you need any other Help Resetting your Phone.
We Thank You for Reading at fixingblog.com