Fix -Netflix streaming issue with router, Roku, and streaming issue –
we love fixing Netflix problems as much as we love watching movies or shows on it
Here are some step's if your Netflix is not working….
1. Restart your internet and you're all the devices : –
Try to Restart your all the device's like- iPhone, Smart TV, Game Console or whatever device you are using to stream Netflix.
Please Restart your Router- Unplug your wireless router from a power source for 60 seconds then plug it back in.
Restart Your Modem- Unplug the modem from your Internet company for 30 to 60 seconds.
Check the WiFi Router Location and place it in another place.
Turn your device on again and try streaming Netflix.
If you still have issues, You can try directly connecting your device to the modem from your ISP with an Ethernet cable to figure out if your router is fine or not if the problem in router then reset your router try to reconfigure it again.
if you don't know to configure your router you can read some blog here how to setup your router.
2. Reset your Netflix : –
now If you have Netflix problem on your Smart TV, PS4, Xbox One or other connected device you can try entering the following code on your device.
Open Netflix and then use your remote to enter, "Up, Up, Down, Down, Left, Right, Left, Right, Up, Up, Up, Up"
When this opens, you should see an option to deactivate Netflix.
From here you can sign back in like new.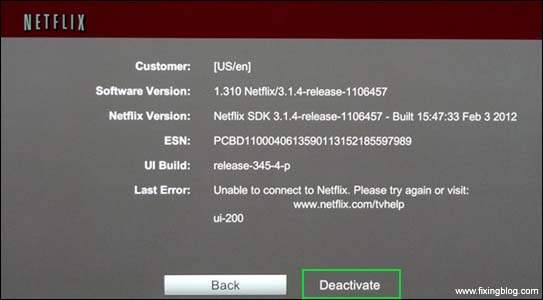 3. Case: Netflix Error 1011 & 1012 on iPhone : –
Try to reset the Netflix app.
Open your iPhone Settings ->
Scroll down until you see Netflix ->
now Tap on Netflix ->
Tap on Reset ->
Press your Home Button.
Open Netflix again and sign back in.
see If it doesn't fix the problem try restarting your iPhone. If that fails, the next step is to long press on the Netflix app and delete it. You can install it again.
For more help read here https://help.netflix.com/en/node/461
I hope this will help you out .checkout some other steps to solve the Netflix streaming issue with Roku
How to fix Netflix streaming with Roku
just restart the Roku and restart the router and check the internet connection and speed .you also need to disconnect the device (Roku ) from settings and later you can add that again . follow steps-
Press the

Home

button to navigate to Roku Home Menu.
Select

Settings.

Go to

Netflix Settings.

Then Select

Deactivate this player from my Netflix account

.
Please Select

Yes

. The device is now deactivated.
Restart the Netflix .
Now it should work and get your Netflix issue resolved . i hope this was helpful and clear and please comment below and let us know if you need any other help