Scripting language PHP has been around for over 25 years. Because of the script's longevity, hiring managers prefer to hire PHP coders, so applicants have had many chances to perfect their PHP developer abilities. Although millions of websites were developed using PHP, some individuals believed it was outdated and chose not to use it anymore. Surprisingly, PHP  came back more vital than ever. Here is what you need to know about hiring PHP developers online, and never regret your decision.
Qualities to look out for when you want to hire PHP developers
Because of the widespread usage of PHP, it is not difficult to find PHP developers who claim to be PHP specialists. On the other hand, recruitment experts have difficulty identifying specialists who are both knowledgeable and culturally appropriate. Often, it is challenging to find PHP developers with a wide variety of knowledge and specializations to work with. Here are just some PHP developer talents to assist you to hire PHP developers.
The prospect should be eager to learn
When delivering new software, developers may have to work together and acquire new skills to meet a project's schedule. When assessing if a developer is a suitable fit for your company, go beyond their PHP programming skills. If you want your employees to remain with you for a long time, find out what they think about professional development and new training options.
Knowledge of other programming languages
Your website will not stand out if you hire PHP programmer that just knows PHP code. They must also know front-end programming languages like JavaScript, CSS, and HTML so that you can find and fix any design flaws. The user experience management (UX), the ultimate goal of most programming projects, will turn out better if the PHP developer knows these languages.
Problem-solving capabilities
A top-tier PHP developer needs more than just technical know-how; they also need a complementing set of soft skills. One of these skills is the ability to solve problems, and it's critical to the success of any online project. PHP developers are expected to run with unexpected issues. Writing excellent code requires critical thinking, or the capacity to examine and evaluate numerous solutions to a problem to arrive at the most efficient one.
As an employer, do the following
The job of getting the perfect PHP developer does not just fall on the prospective employee. There are certain things you as an employer need to put in place to get only the best. Here are just a few of those things:
Prepare a well-written job description
A well-written job description for a PHP developer provides long-term advantages. While interviewing for a position, job descriptions serve as a framework for the conversation. Creating a job description for PHP developers takes time. A recruiter's initial task is to match job seekers' abilities with the job description; this may serve as the first step in screening.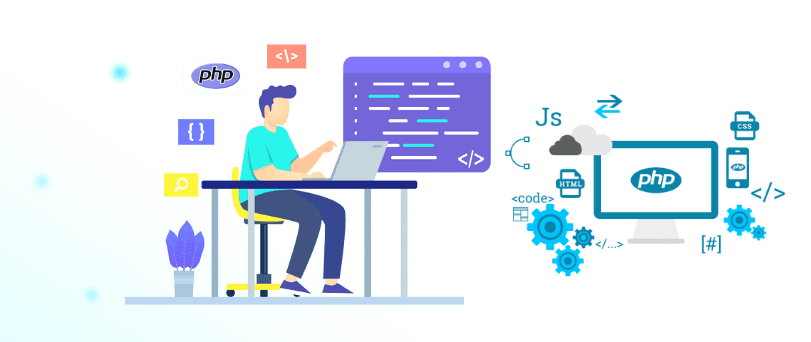 Consider the following sets of questions
PHP developers should have how many years of experience?
What financial limitations do you have?
What degree of adaptability do you have to offer? Is it possible to conduct this job from a distance?
If you can answer the above-listed questions honestly, you are ready to get a good PHP software developer.
Develop and administer skill evaluation tests
As previously said, a proficient PHP developer should be conversant with various scripting languages, including SQL, MySQL database, HTML, CSS, etc. You may use an online coding exam to verify that your applicants have the necessary abilities, such as a solid understanding of JavaScript. It is possible to construct a thorough exam that asks about a wide range of predicted abilities.
factors that may affect your ability to hire a PHP developer
A few variables will determine where to look for PHP developers. It's essential to consider the length of the project and how much time and money you're ready to invest in the recruiting process before making a final decision.
With the help of devoted freelancers, Fiverr, Upwork, Upstack, and other online freelancing platforms seek to enhance remote technology teams throughout the globe. They source their developers from all around the world to find the most acceptable freelancers.