Hello friends
welcome to fixingblog.com
by the time every computer mac or windows get slow and we have to understand how we can get the best performance from our machine.
for this topic, let's concentrate only on Mac computers and how to Clean slow mac computer.
Understanding why mac is slow –
it has some junks and cookies, temp files, toolbar in the browser or may be corrupted codes inside it.
few most used programs are outdated and need to be updated
load of start up programs can also make it very slow
use activity monitor to see which program is making it slower
your mac computer is very old like more than 6-7 years you may have to upgrade the R.A.M memory.
Your hard drive needs some disk clean up. please remove all unnecessary big files and use CCleaner to clean up the hard drive and speed up the Mac computer and also wipe out free space on hard drive.
Uninstall all unwanted programs and application for better performance.
How to Clean slow mac computer-
in order to clean slow Mac computer first, you need to close all programs and restart the computer
download CCleaner for Mac and run it (its free to use )
Close safari or the browser that you use and remove all unwanted toolbar.
disable all start up programs that you don't use they make your computer slow.
time to time apple release their software update to maintain and fix bugs inside their operating system . please download the latest updates for your operating system
disable all the visual and animation effects to Get better performance.
you can also reduce Transparency by going system Preferences >Accessibility> Reduce transparency check the box and save the settings.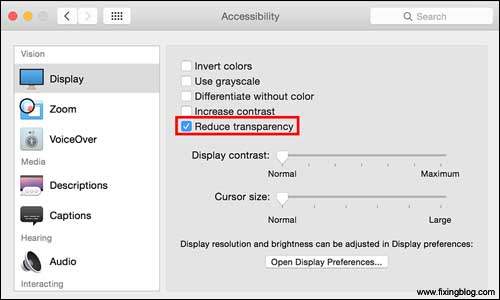 if all this did not work you can also try doing a reset on https://fixingblog.com/quick-steps-reset-mac-computer-factory-settings-version/
Few More tips and tricks to speed up slow Mac computer –
please reboot your mac computer once a day
you can also add some more R.A.M for good performance .( we recommend minimum 2-4 G.B )
Please clear space from the hard drive as much as you can. only remove those big files that you don't use.
Mac computer auto-defrags big files you can adjust the settings.
you can turn off encryption also will also help you to increase the speed of your Mac computer. but Know the risk disabling encryption will put your computer at risk when it's stolen. Click on Apple menu > System Preferences, then click Security & Privacy. here you can see file vault Tab on top. once you click on the lock button it will ask you the user name and password. then turn off the file Vault and please save the settings and restart the mac.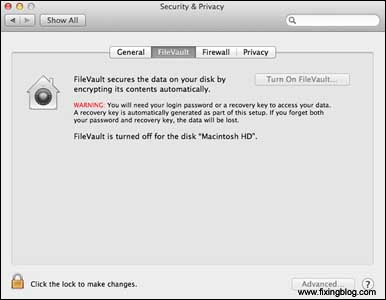 see if all these steps help and make your computer fast.
for more steps please comment below and let us know any other issue with your computer.
we thank you for reading at fixingblog.com