Hello folks,
welcome to fixingblog.com
Apple Airport Time Capsule –
Apple airport time capsule is a multi-purpose and multitasks device. an apple time capsule can be used as a wireless access point.
you can use it for back up and many more things like it will let you print and store your data using wireless connectivity.
this is Know issue and let see in many cases very easy to fix.
just follow simple steps and fix your flashing yellow or amber airport time capsule.
If the internet is your main issue and apple express, extreme or time capsule devices not giving you the internet.
you can also try these steps to fix the internet issue with the airport follow https://fixingblog.com/apple-airport-wont-connect-internet/ and see if this also helps.
Why Apple Airport Time Capsule Flashing Yellow –
mostly this problem comes whenever there is the new update on your time capsule device or whenever time capsule detects internet connectivity issues.
please follow these steps to fix this issue –
first, open Applications then go to –> Utilities –> Airport Utility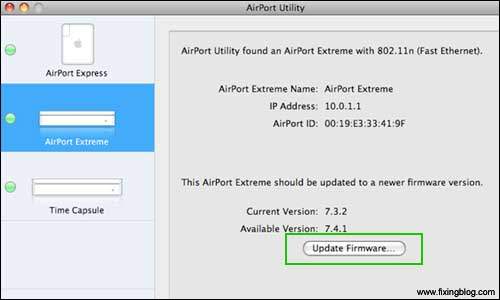 with windows computer there must be a desktop icon by the name of apple airport utility please open it and follow the same.
Once the airport utility is open Now you may see there will be pop up saying that there is a new version of the software available.
Please download and update the software and if there is no pop-up asking for an update then check for any new software update manually.
restart your computer and restart the apple airport time capsule And wait for 1 min
Tips : –
=> Please restart the modem and computer also every time you restart the airport time capsule.
=> Do not reset and erase the date while playing with apple airport utility.

see if all this works and fix your issue.
for any other help with apple airport time capsule please comment below
we thank you for reading at fixingblog.com