Hello Friends,
Do You Have Any Trouble Login to Your Netgear Range extender?
Are You Trying to troubleshoot Your Netgear extender? Would You Like to Change the Password Or Settings to Your Netgear extender?
If You Have Yes For Any of these Questions Then this Post is Just For You. Please Read till Last and Troubleshoot Your Netgear Extender Problem.
Let's Get Started With Simple Steps And Fix Issues Quickly –
if you are Already Connected to Your Netgear extender and just want to change your Password, Band Or Settings then You Can log in using any device with a full Browser like Chrome, Firefox, or internet explorer, etc.`
Just Launch Your Browser and type myWiFiext.net and Type default username and password And Boom.
Congrats You Are Logged in…! if it Failed Then Try These Steps: –
Login Netgear Range Extender
First We Need to Login in Netgear range extender In Order to Troubleshoot its Problem.
There Are Only Two Ways One Can log in to Netgear Extender Dashboard. Here is the Catch That Most of people Don't Understand –
if You Are Not Connected To Your Netgear extender Then You Must Try a Cable to access the Netgear Extender Or Reset Your Netgear Extender to Default Settings.
Read More – How To Reset Netgear Range Extender
Access Netgear Extender Using Ethernet Cable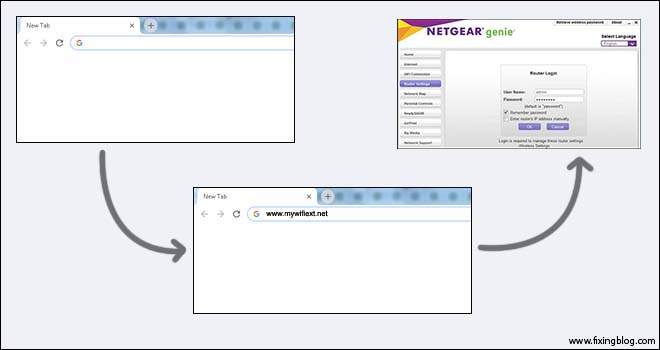 Tips – Disconnect Your Computer From Router if Connected Or else it May Conflict to Default Gateway.
Please Connect Your Computer Using Ethernet Cable With Your Netgear extender.
Open Your Internet Browser And Type In URL http://myWiFiext.net  Or You Can Also Use Default Ip Address 192.168.1.254
Now type Your Username And Password. if You Do not Remember them Try using The Default Variants.
Username: admin Or Username: admin
Password: admin Password: admin
Now You Are Logged In Here You Can Change Settings.
After Changing the settings Do Not Forget to save and restart Your Extender.
In Case if You Are Trying to Setup Netgear Range Extender And You Are Not Able to Access myWiFiext.net  web Address Then Try this.
Read More: How to Setup Netgear Range Extender | Mywifiext.net
We Hope this Will Help you to Login Netgear Range Extender. Please Comment Below and Let us Know if you need any Help Troubleshooting Your Netgear Extender.
We Thank You For Reading at fixingblog.com 😉
Good Luck 🙂