Hello Friends, Welcome to Fixingblog.com
Folks In This Post We Will Learn to configure and Setup Belkin Router.It's Very Easy And Simple With Right Steps And With Wrong Steps, it Can Cause You Trouble.
Keep In Mind : You Can Use The Same Steps To Configure Every Belkin router Like Belkin n300, n600 And Belkin Ac Series Routers.
Setup Belkin router-
We Consider Belkin Routers are the Best Home Wireless Routers. Range, Connectivity, And Durability Are Great For Home Users With Belkin Wireless.
Few Things You Need Upfront For Belkin setup
Internet Connection From Your Internet services Providers Like At&t, Comcast, Verizon Or Any Other Provider.
Ethernet Cable (Normal Internet Cable) Mostly RJ45 (For Connecting Modem To Belkin Router )
A Computer (Optional)
You Can Setup The Belkin Wireless Router With Phone Or Tablet Via Using Any Full Browser Like Chrome, Firefox or Internet Explorer Etc.
Best Hack :Please Reset Belkin Router Before You Setup It This Will Make Job easier.
Read More : Why Belkin wireless router is not working?
Install Belkin Router –
Plug your Belkin Router with Power outlet And Turn It On.
Connect your modem to your Belkin router with a cable (internet or Ethernet cable )
Now connect the computer to the router using the one more Ethernet cable.
In Case You Do Not Have Extra Ethernet Cable Please Reset The Belkin Router And Click On Wireless Icon In Your Computer.
Connect With The Unsecured Belkin Router And Open The Browser
Once You Connected The Belkin Router With Computer Please Open Any Web Browser Like Firefox, Chrome or Internet Explorer And Type 192.168.2.1 And Hit Enter.
Belkin Router setup Page Or Belkin Dashboard will come up.
Now Your Modem Will Detect Your Belkin router And Now You Can Configure The Settings In your Wireless routers Like SSID (Network name ) And Password.
You can change or setup password as you wish By Going Into Wireless Settings And Apply the changes.
After setup Your Belkin Router Please Restart Your Router And Computer both.
Congrats You Router has been Configured Now You Should Have Wireless Internet.
Sometimes you may also get issues with Belkin router setup just like –
While Belkin setup you Might see that your Belkin Router not detecting the modem.
In that scenario, We will Advise Yo just restart the modem and Router Than try Again Belkin router setup Guide.
Read More : How To Configure Belkin Router Using Mac computer?
Other Ways to Setup Belkin Router –
Belkin wireless router setup with only one internet cable.
For Belkin router setup you can also try this one more method.
Please plug the modem with a Belkin wireless router using the internet cable (Ethernet )and turn the modem and router on.
Now go and check on your computer you will see a new Belkin network name.
Just click on it and you can connect with the Belkin router web interface using this network.
It may ask for a password please look inside the new router box there will be a card inside it. you can also see the default password on the back of your router.
If you don't find it anywhere try resetting the Belkin router using the reset key at the back.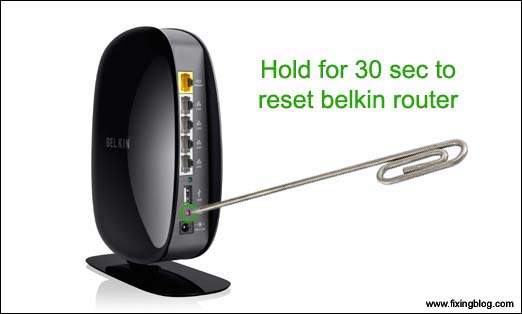 Read More : How to reset Belkin Router To Default Settings
Now click connect after reset or after you typed the password and it will take you to Belkin router setup page and now you can setup Belkin wireless router by given instruction.
You can customize the Belkin router dashboard and lock the router .you can also control the settings like password, channel, parental control and access to the websites.
Useful tips : –
If these steps do not work please do not reset the router more than 3-5 times it will make hardware problem in Belkin router.
Please update Belkin router firmware time to time and restart after the update.
Always make sure you check the connection type for setup of Belkin wireless router. Some of the connection types are- Dynamic IP connection, PPPoE, static IP address
These are some useful tips for installing and configuring the Belkin wireless router.
Read More : Belkin router connect but no internet access
Setup Belkin Router Using Mac Computer –
🙁 Are you having trouble with Belkin router setup with the Mac computer?
🙂 No need to worry.Just follow steps one by one and this will enable you to install your Belkin wireless router with mac.
Plug the Belkin wireless router with the modem using internet cable to the internet port.
Now restart the Belkin router and restart the mac also. once it's turned on login to your computer
You can see a new Belkin router network on the network list please connect with it
Follow the instruction and detect the connection and setup Belkin router using the recommended settings.
Setup password and network name for your wireless router and save the settings and restart the router and great it should be set up and now you can use it.
Please let us know if you have any other problems with Belkin router.
Read More : Why Belkin router is blinking orange and not working?
Know What Belkin has to Say About this Issue –
Learn More : About setting up the Belkin router Manually
😉 See If All this information Helps to set up Belkin router. Please comment below and let us know for any other help With Belkin Setup. Please Share This Post If It Was Helpful.
🙂 We thank you for Reading at fixingblog.com