Hello friends,
Welcome to fixingblog.com
How to Reset iPhone to factory settings –
Here are two method's to reset your iPhone
Before we go further First you have to backup your all personal data using iTunes.
Reset iPhone to Factory Settings through iPhone –
Launch setting.
Tap on general.
Scroll down to the bottom of general.
Tap on reset.
Tap on Erase all content and settings.
Enter the iPhone password.
Confirm the reset by tapping on erase iPhone. It will reset your phone after restarting. now you can set it up as a new phone.
Reset/Restore your iPhone by iTunes
We consider this is the best option and in most of the cases we always recommend,
Use iTunes to update, backup and reset the Apple products.
First, we need a computer to perform a reset or restore on iPhone using iTunes.
if you have a Mac computer that's Great if not, you can just download iTunes for windows computer also from the Apple website.
Turn on your computer and iPhone.
Open iTunes application on your computer.
Please Connect your iPhone to your computer with the help of cable that comes with your device.
Enter your passcode or to trust this computer follow the onscreen steps.
Now Select your iPhone when it appears in iTunes.
Click on summary and in the summary panel click on restore device.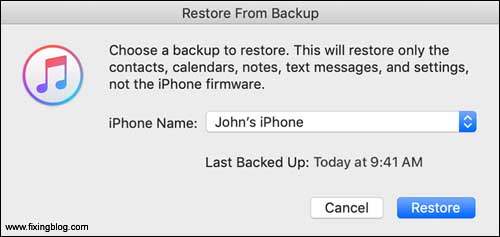 Click on Restore to confirm again.
Then iTunes erases your device and installs the latest ios software.
After your device restores to factory setting. it restarts automatically.
I hope this will help you out to Reset iPhone.
You can always go to apple store and they can do all this service if your iPhone is under warranty.
If not then please comment below and let us know about it.
We thank you for reading at fixingblog.com 🙂