Hello Folks,
Welcome to fixingblog.com
It's Common for a Home Wifi Router to Quit Working Every once in a while First Question You may have in Your Mind –
Why My Belkin router is not working? 
If your Belkin router stopped working all of the sudden then there Can be Multiple reasons behind it Like Overheating, technical Glitch, Firmware update, I.S.P Issue, Hardware Problem etc.
Friends let's get this issue resolved and find out what is the problem in Belkin wireless router. we have used a Belkin router for more than 7 years so we know a lot about Belkin wireless router. Belkin wireless routers are the best routers among any other home wireless routers.
While your Belkin router has Quit Working We Recommend you take Steps Slow & One By One- 
Belkin Router Basic Troubleshooting –
Restart = take out the power cable and wait for 20 sec then plug it back 
Restart the modem (cable/DSL modem)
Now restart the router and computer also and check all the cable connection to make sure everything is Correct.
Connect everything back to as it was before.
See if this gets you Belkin wireless router online. if it does not work then we have to try these steps –
Fix Belkin Router –
First,  unplug the Belkin wireless router from the modem and connect the computer to your modem with a cable Directly Just to make sure that you are getting the internet from your internet service Provider Side
Now connect the modem to the router using an internet cable to the internet port(Ethernet port).
try connecting wireless router with a computer using another internet cable. Open Your Web Browsers such as Chrome, Firefox Or Internet Explorer.
type 192.168.2.1 at the URL (on the top of the search bar ) and press Enter the new router setup page is open.
Now there are easy steps where you can set up the router and you can change the password.
Read More : Why Belkin router is blinking orange and not working?
Steps to reset the Belkin wireless router
Try using the reset key to reset the wireless router. please find the reset hole at the back or bottom of the router. it's the time where one has to do the power cycle (restart)of the modem.then after restarting the router and do the same with a computer also.
Press the reset key and using a pen Or Paper clip And Hold For Like 30 seconds.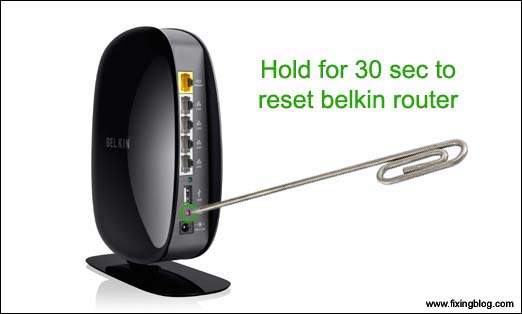 Read More : How to setup Belkin wireless router in easy steps?
These steps will let you solve your Belkin router is not working problem and this will be a help for any other problem with Belkin router too.
Please Update the Belkin router Firmware After Your Belkin Start Working.
Read More : How To Update Belkin Wireless Router Firmware?
I hope this will help you. Still, if Your Belkin router is not working Than Keep Reading
Tips For Belkin Router –
1- Try contacting your ISP(internet service provider ) once all steps fail to set up Belkin wireless router.
2- be careful do not reset the Internet modem Instead Of Belkin router.
3- Update the Belkin Router Firmware
Try Performing  the Self Heal Option Available Inside Belkin Router Dashboard And In Order to Login Belkin Router.
Please read : 192.168.2.1 Belkin Router Login Page And Dashboard
For more Belkin Support And Belkin Troubleshooting Click Below
Read More : Belkin support And troubleshooting guides
we thank you for reading. please don't forget to share this & comment below for any other Belkin wireless help and steps
Good Luck